STEEL AVEX® Fastening System
This fastening system is the original multi-grip blind breakstem rivet. Positive stem retention, complete hole fill and wide grip range are some of the unique benefits offered.
Benefits:
Wide Grip Range
One rivet can be used in multiple material thicknesses. This
reduces inventories and eliminates operator error.
Mechanically Locked Stem
Stem is locked in shell, eliminating the risk of mandrel head
vibrating loose while providing a weather resistant joint.
Complete Hole Fill
The bulbing formation of the Avex® will fill slightly oversized
or irregular holes, providing increased strength and vibration
resistance.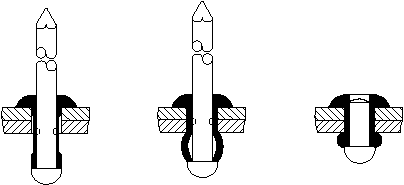 ---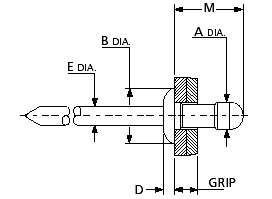 | | | | | | |
| --- | --- | --- | --- | --- | --- |
| Diameter | | | Steel | Grip Range | E (max) |
| 1/8" | 3.2mm | | 1624-0411 | .044-156 | 0.450 |
| Hole Size= | | | | 1.10-4.00 | 11.400 |
| A dia.= | .124-.128 (3.15-3.25) | | | | |
| B nom= | .285 (7.22) | | | | |
| D max= | .047 (1.19) | | | | |
| E max= | .0835 (2.10) | | | | |
| 5/32" | 4.0mm | | 1642-0515 | .047-.187 | 0.550 |
| Hole Size= | | | | 1.20-4.80 | 13.800 |
| A dia.= | .157-.160 (3.99-4.07) | | 1624-0616 | .156-.250 | 0.640 |
| B nom= | .320 (8.331) | | | 4.00-6.30 | 16.200 |
| D max= | .062 (1.57) | | | | |
| E max= | 0.1088 | | | | |
| | | | | | |
---
Typical Shear and Tensile Data Steel Avex in lbs. (Newtons)
Rivet Diameter
1624 Series
Shear
Tensile
1/8" (3.2mm)
300 (1334)
385 (1710)
5/32" (4.0mm)
440 (1955)
530 (2355)
3/16" (4.8mm)
1624-0612 810 (3605)
750 (3335)
1624-0616 1025 (4560)
780 (3470)
---
Series
Head Style
Material
Finish
Body
Mandrel
Body
Mandrel
1624
Lo-Profile
Steel
Steel
Zinc Plated
Zinc Coated