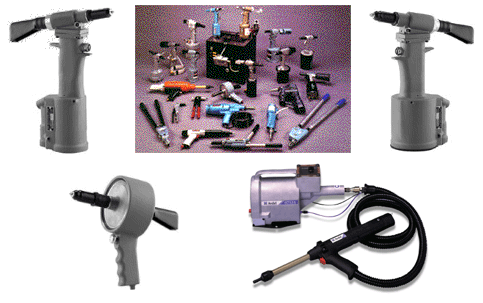 We, at Crawford Products pride ourselves in supplying the optimum tool for the fastening situation at an affordable price.
We provide a wide selection of concepts from simple manually-operated rivet tools to fully- automated, multiple-head, automatic-feed custom tooling.
Manually-powered tools, pneumatic tools, hydraulic tools, pneudraulic tools, all the way to robotic-interfaced tools
Contact us for specifics on our wide range of hand held rivet tools.


About Us I Contact Us I Site Map I Huck Fasteners I Avdel Rivets I Emhart Pop Rivets I Henrob Rivets I Atlas Inserts
Lockbolts I Threaded Inserts I Structural Blind Rivets I Speed Fastening I Solid Rivets I Semi Tubular Rivets
Breakstem Rivet I Self Piercing Rivets I Hand Held Tooling I Automation & Assembly I Home Page
Created by Upright Communications.