Q Rivet™ Fastening System
This breakstem rivet and fastening system has internal friction lock with positive retention. Good shear strength. Provides moderate hole fill and a weather-resistant feature.
Benefits:
Good Shear Strength
Avdel Q™ rivet mandrel plugs the entire length of the rivet body, providing high shear strength values for structural or load-bearing applications.
Sealing Capability
Specially designed mandrel is engineered to effect a weather-tight seal when the rivet is installed properly.
Complete Hole Fill and Sealing Capability
Expands radially during setting to fill even elliptical holes.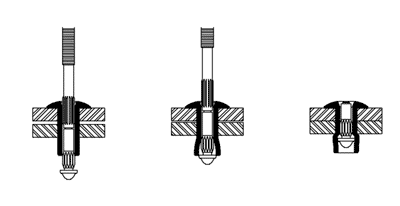 ---
Diameter
Part Number
Grip Range
L Dim.Max
Min.
Mid.*
Max
1/8"
2,4mm
****.41
0.062
0.212
Hole Size=
.129 - .133 (3.28 - 3.38)
1.57
5.380
A dia.=
.250 (6.35)
****.42
0.063
0.093
0.125
0.275
B max =
.042 (1.07)
1.60
2.36
3.18
6.990
D nom =
.125 (3.18)
****.43
0.094
0.125
0.187
0.337
S nom =
.075 (1.91)
2.39
3.18
6.99
8.560
****.44
0.126
0.187
0.25
0.400
3.20
4.75
6.35
10.160
****.45
0.188
0.25
0.312
0.462
4.78
6.35
7.92
11.730
****.46
0.251
0.312
0.375
0.535
6.38
7.92
9.53
13.590
****.47
0.313
0.375
0.437
0.602
7.95
9.53
11.10
15.290
****.48
0.376
0.437
0.50
0.670
9.55
11.10
12.70
17.020
5/32"
4.0mm
****.52
0.062
0.093
0.125
0.300
Hole Size=
.160 - .164 (4.06 - 4.17)
1.60
2.36
3.18
7.620
A dia.=
.312 (7.92)
****.54
0.126
0.187
0.25
0.425
B max=
.050 (12.7)
3.20
4.75
6.35
10.800
D nom =
.156 (3.96)
****.56
0.251
0.312
0.375
0.550
S nom =
.095 (2.41)
6.38
7.92
9.53
13.970
****.58
0.376
0.437
0.50
0.675
9.55
11.10
12.70
17.650
3/16"
4.8mm
****.62
0.062
0.093
0.125
0.325
Hole Size=
.192 - .196 (4.88 - 4.98)
1.60
2.36
3.18
8.260
A dia.=
.375 (9.53)
****.64
0.126
0.187
0.25
0.450
B max=
.060 (1.52)
3.20
4.75
6.35
11.430
D nom =
.187 (4.75)
****.66
0.251
0.312
0.375
0.575
S nom =
.114 (2.90)
6.38
7.92
9.53
14.610
****.68
0.376
0.437
0.50
0.700
9.55
11.1
12.70
17.780
****.610
0.501
0.562
0.625
0.850
12.73
14.27
15.88
21.590
****.612
0.626
0.687
0.75
0.980
15.90
17.45
19.05
24.890
****.614
0.751
0.812
0.875
1.110
19.08
20.62
22.23
28.190
1/4"
6.4mm
****.82
0.062
0.093
0.125
0.375
Hole Size=
.257 - .261 (6.53 - 6.63)
1.60
2.36
3.18
9.500
A dia.=
.500 (12.7)
****.84
0.126
0.187
0.25
0.500
B max=
.080 (2.03)
3.20
4.75
6.35
12.700
D nom =
.250 (6.35)
****.86
0.251
0.312
0.375
0.625
S nom =
.151 (3.84)
6.38
7.92
9.53
15.900
****.88
0.376
0.437
0.50
0.750
9.55
11.10
12.70
19.100
****.810
0.501
0.562
0.625
0.900
12.73
14.27
15.88
22.900
****.812
0.626
0.687
0.75
1.030
15.9
17.45
19.05
26.200
****.814
0.751
0.812
0.875
1.160
19.08
20.62
22.23
29.500
****.816
0.876
0.937
1.00
1.290
22.25
23.80
25.40
32.800
Note! Q Rivets break flush with rivet head at Midgrip (except -41's, which break at .062)
---

Part Number
Grip Range
L Dim.Max
Min.
Mid.*
Max
2,4mm
****.41
0.062
0.212
.129 - .133 (3.28 - 3.38)
1.57
5.380
.375 (9.53)
****.42
0.063
0.093
0.125
0.275
.065 (1.65)
1.60
2.36
3.18
6.990
.125 (3.18)
****.43
0.094
0.125
0.187
0.337
.076 (1.93)
2.39
3.18
6.99
8.560
****.44
0.126
0.187
0.25
0.400
3.20
4.75
6.35
10.160
****.45
0.188
0.25
0.312
0.462
4.78
6.35
7.92
11.730
****.46
0.251
0.312
0.375
0.535
6.38
7.92
9.53
13.590
****.47
0.313
0.375
0.437
0.602
7.95
9.53
11.10
15.290
****.48
0.313
0.375
0.437
0.602
7.95
9.53
11.10
15.290
4.0mm
****.52
0.062
0.093
0.125
0.300
.160 - .164 (4.06 - 4.17)
1.60
2.36
3.18
7.620
.469 (11.92)
****.54
0.126
0.187
0.25
0.425
.075 (1.91)
3.20
4.75
6.35
10.800
.156 (3.96)
****.56
0.251
0.312
0.375
0.550
.095 (2.41)
6.38
7.92
9.53
13.970
****.58
0.376
0.437
0.50
0.675
9.55
11.10
12.70
17.650
4.8mm
****.62
0.062
0.093
0.125
0.325
.192 - .196 (4.88 - 4.98)
1.60
2.36
3.18
8.260
.625 (15.88)
****.64
0.126
0.187
0.25
0.450
.092 (2.34)
3.20
4.75
6.35
11.430
.187 (4.75)
****.66
0.251
0.312
0.375
0.575
.114 (2.90)
6.38
7.92
9.53
14.610
****.68
0.376
0.437
0.50
0.700
9.55
11.1
12.70
17.780
****.610
0.501
0.562
0.625
0.850
12.73
14.27
15.88
21.590
****.612
0.626
0.687
0.75
0.980
15.90
17.45
19.05
24.890
****.614
0.751
0.812
0.875
1.110
19.08
20.62
22.23
28.190
6.4mm
****.82
0.062
0.093
0.125
0.375
.257 - .261 (6.53 - 6.63)
1.60
2.36
3.18
9.500
.750 (19.05)
****.84
0.126
0.187
0.25
0.500
.107 (2.64)
3.20
4.75
6.35
12.700
.250 (6.35)
****.86
0.251
0.312
0.375
0.625
.151 (3.84)
6.38
7.92
9.53
15.900
****.88
0.376
0.437
0.50
0.750
9.55
11.10
12.70
19.100
****.810
0.501
0.562
0.625
0.900
12.73
14.27
15.88
22.900
****.812
0.626
0.687
0.75
1.030
15.9
17.45
19.05
26.200
****.814
0.751
0.812
0.875
1.160
19.08
20.62
22.23
29.500
****.816
0.876
0.937
1.00
1.290
22.25
23.80
25.40
32.800
Note! Q Rivets break flush with rivet head at Midgrip (except -41's, which break at .062)
---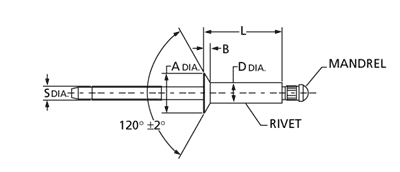 Diameter
Part Number
Grip Range
L Dim.Max
Min.
Mid.*
Max
1/8"
2,4mm
****.41
0.062
0.212
Hole Size=
.129 - .133 (3.28 - 3.38)
1.57
5.380
A dia.=
.375 (9.53)
****.42
0.063
0.093
0.125
0.275
B max =
.065 (1.65)
1.60
2.36
3.18
6.990
D nom =
.125 (3.18)
****.43
0.094
0.125
0.187
0.337
S nom =
.076 (1.93)
2.39
3.18
6.99
8.560
****.44
0.126
0.187
0.25
0.400
3.20
4.75
6.35
10.160
****.45
0.188
0.25
0.312
0.462
4.78
6.35
7.92
11.730
****.46
0.251
0.312
0.375
0.535
6.38
7.92
9.53
13.590
****.47
0.313
0.375
0.437
0.602
7.95
9.53
11.10
15.290
****.48
0.313
0.375
0.437
0.602
7.95
9.53
11.10
15.290
5/32"
4.0mm
****.52
0.062
0.093
0.125
0.300
Hole Size=
.160 - .164 (4.06 - 4.17)
1.60
2.36
3.18
7.620
A dia.=
.469 (11.92)
****.54
0.126
0.187
0.25
0.425
B max=
.075 (1.91)
3.20
4.75
6.35
10.800
D nom =
.156 (3.96)
****.56
0.251
0.312
0.375
0.550
S nom =
.095 (2.41)
6.38
7.92
9.53
13.970
****.58
0.376
0.437
0.50
0.675
9.55
11.10
12.70
17.650
3/16"
4.8mm
****.62
0.062
0.093
0.125
0.325
Hole Size=
.192 - .196 (4.88 - 4.98)
1.60
2.36
3.18
8.260
A dia.=
.625 (15.88)
****.64
0.126
0.187
0.25
0.450
B max=
.092 (2.34)
3.20
4.75
6.35
11.430
D nom =
.187 (4.75)
****.66
0.251
0.312
0.375
0.575
S nom =
.114 (2.90)
6.38
7.92
9.53
14.610
****.68
0.376
0.437
0.50
0.700
9.55
11.1
12.70
17.780
****.610
0.501
0.562
0.625
0.850
12.73
14.27
15.88
21.590
****.612
0.626
0.687
0.75
0.980
15.90
17.45
19.05
24.890
****.614
0.751
0.812
0.875
1.110
19.08
20.62
22.23
28.190
1/4"
6.4mm
****.82
0.062
0.093
0.125
0.375
Hole Size=
.257 - .261 (6.53 - 6.63)
1.60
2.36
3.18
9.500
A dia.=
.750 (19.05)
****.84
0.126
0.187
0.25
0.500
B max=
.107 (2.64)
3.20
4.75
6.35
12.700
D nom =
.250 (6.35)
****.86
0.251
0.312
0.375
0.625
S nom =
.151 (3.84)
6.38
7.92
9.53
15.900
****.88
0.376
0.437
0.50
0.750
9.55
11.10
12.70
19.100
****.810
0.501
0.562
0.625
0.900
12.73
14.27
15.88
22.900
****.812
0.626
0.687
0.75
1.030
15.9
17.45
19.05
26.200
****.814
0.751
0.812
0.875
1.160
19.08
20.62
22.23
29.500
****.816
0.876
0.937
1.00
1.290
22.25
23.80
25.40
32.800
Note! Q Rivets break flush with rivet head at Midgrip (except -41's, which break at .062)
---
Series

Head Style

Material

Finish

Body

Stem

Body

Stem

AAPQ

Protruding

Aluminum

Aluminum

Natural

Natural

AALQ

Large Flanged

Steel

Steel

Zinc Plate

Zinc Plate

AACQ

Countersunk

Aluminum

Aluminum

Natural

Natural

BSPQ

Protruding

Aluminum

Steel

Natural

Zinc Plate

BSLQ

Large Flanged

Aluminum

Steel

Natural

Zinc Plate

BSCQ

Countersunk

Aluminum

Steel

Natural

Zinc Plate

SSPQ

Protruding

Steel

Steel

Zinc Plate

Zinc Plate

SSLQ

Large Flanged

Steel

Steel

Zinc Plate

Zinc Plate

SSCQ

Countersunk

Steel

Steel

Zinc Plate

Zinc Plate

CCPQ

Protruding

Stainless

Stainless

Bright

Bright

CCLQ

Large Flanged

Stainless

Stainless

Bright

Bright

CCCQ

Countersunk

Stainless

Stainless

Bright

Bright

MSPQ

Protruding

Monel

Steel

Plain

Zinc Plate

MSLQ

Large Flanged

Monel

Steel

Plain

Zinc Plate

MSCQ

Countersunk

Monel

Steel

Plain

Zinc Plate
---
Typical Shear and Tensile Data "Q" Rivets in lbs. (Newtons)
Rivet Diameter
AA Series
BS Series
SS Series
MS Series
CC Series
Shear
Tensile
Shear
Tensile
Shear
Tensile
Shear
Tensile
Shear
Tensile
1/8" (3.2mm)
225 (1001)
250 (1112)
350 (1557)
325 (1445)
500 (2224)
400 (1779)
650 (2891)
525 (2335)
700 (3114)
600 (2669)
5/32" (4.0mm)
325 (1445)
325 (1445)
525 (2335)
450 (2002)
700 (3114)
550 (2446)
950 (4226)
900 (4003)
1050 (4670)
1000 (4448)
3/16" (4.8mm)
500 (2224
450 (2002)
750 (3336)
650 (2891)
1050 (4670)
825 (3670)
1450 (6450)
1100 (4893)
1650 (7339)
1300 (5782)
1/4" (6.3mm)
850 (3781)
750 (3336)
1250 (5560)
1050 (4670)
1750 (7784)
1450 (6450)
2350 (10453)
2150 (9563)
2450 (10898)
2250 (10008)