MONOBOLT® Fastening System
This fastening system has a positive external locking feature. Requires special nosetip. Good vibration and water resistance. Available in a variety of materials and headstyles.
Benefits of the Monobolt Fastening System:
Visible Lock
External locking mechanism for positive stem retention.
High Clamp-up
Removes gap between sheets easily.
Complete Hole Fill and Sealing Capability
Expands radially during setting to fill even elliptical holes.
High Shear and Tensile
Resists loosening when exposed to variable loads.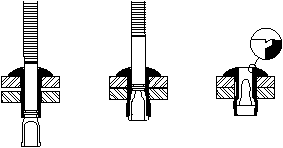 ---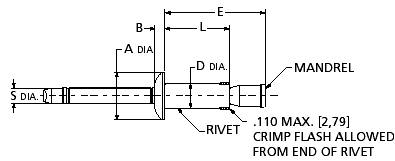 | | | | | | | | |
| --- | --- | --- | --- | --- | --- | --- | --- |
| Diameter | | Steel | Aluminum | Stainless | Grip Range | E (max) | L (max) |
| 3/16 (6) | 4.8mm | SSPV-64 | BAPV-64 | CCPV-64 | .062-.250 | 0.842 | 0.416 |
| Hole Size= | .194-.204 (4.93-5.18) | | | | 1.57-6.35 | 21.390 | 10.57 |
| A= | .355-.400 (9.02-10.16) | SSPV-E67 | BAPV-E67 | CCPV-E67 | .062-.437 | 0.962 | 0.577 |
| B max= | .090 (2.29) | | | | 1.63-11.10 | 25.430 | 14.66 |
| D= | .184-.193 (4.67-4.90) | | | | | | |
| S= | .114-.120 (2.90-3.05) | | | | | | |
| 1/4 (8) | 6.3mm | SSPV-86 | BAPV-86 | CCPV-86 | .080-.375 | 1.181 | 0.556 |
| Hole Size= | .261-.276 (6.63-7.01) | | | | 2.03-9.53 | 30.000 | 14.12 |
| A= | .480-.530 (12.19-13.46) | SSPV-810 | BAPV-810 | CCPV-810 | .350-.625 | 1.181 | |
| B max= | .117 (2.97) | | | | | | |
| D= | .254-.260 (6.45-6.60) | SSPV-E810 | BAPV-E810 | CCPV-E810 | .080-.625 | 1.431 | 0.806 |
| S= | .153-.162 (3.89-4.11) | | | | 2.03-15.87 | 36.850 | 20.47 |
| | | | | | | | |
---

| | | | | | | |
| --- | --- | --- | --- | --- | --- | --- |
| Diameter | | | Steel | Grip Range | E (max) | L (max) |
| 3/16 (6) | 4.8mm | | SSLVA-64 | .062-.250 | 0.842 | 0.416 |
| Hole Size= | .194-.204 (4.93-5.18) | | | 1.57-6.35 | 21.390 | 10.57 |
| A= | .500-.530 (12.70-13.46) | | SSLVA-E6-7 | .062-.437 | 0.962 | 0.577 |
| B max= | .105 (2.67) | | | 1.63-11.10 | 25.430 | 14.66 |
| D= | .184-.193 (4.67-4.90) | | | | | |
| S= | .114-.120 (2.90-3.05) | | | | | |
| | | | | | | |
---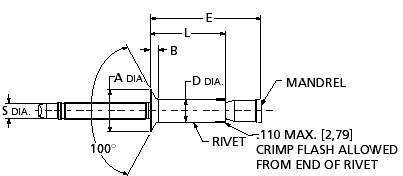 | | | | | | | | | |
| --- | --- | --- | --- | --- | --- | --- | --- | --- |
| Diameter | | | Steel | Aluminum | Stainless | Grip Range | E (max) | L (max) |
| 3/16 (6) | 4.8mm | | SSCV-66 | BACV-66 | CCCV-66 | .125-.331 | 0.8 | 0.486 |
| Hole Size= | .194-.204 (4.93-5.18) | | | | | 3.18-8.41 | 29.32 | 12.34 |
| A= | .325-.360 (8.26-9.14) | | | | | | | |
| B max= | .070 (1.78) | | | | | | | |
| D= | .184-.193 (4.67-4.90) | | | | | | | |
| S= | .114-.120 (2.90-3.05) | | | | | | | |
| 1/4 (8) | 6.3mm | | SSCV-88 | | | .125-.475 | 1.028 | 0.66 |
| Hole Size= | .261-.276 (6.63-7.01) | | | | | 3.18-12.07 | 26.11 | 16.76 |
| A= | .395-.448 (10.03-11.38) | | | | | | | |
| B max= | .079 (2.01) | | | | | | | |
| D= | .254-.260 (6.45-6.60) | | | | | | | |
| S= | .153-.162 (3.89-4.11) | | | | | | | |
| | | | | | | | | |
---
Minimum Shear and Tensile Data for Monobolts in lbs. (Newtons)
Rivet Diameter
SS Series Steel/Steel
Shear
Tensile
Mandrel Push-out
3/16" (4.8mm)
1300 (5782)
1000 (4448)
100 (445)
1/4" (6.3mm)
2400 (10675)
1850 (8229)
250 (1112)
Rivet Diameter
BA Series Alum/Alum
Shear
Tensile
Mandrel Push-out
3/16" (4.8mm)
550 (2246)
450 (2002)
50 (222)
1/4" (6.3mm)
1270 (5649)
830 (3692)
100 (445)
Rivet Diameter
CC Series Stainless
Shear
Tensile
Mandrel Push-out
3/16"
(4.8mm)
1300 (5782)
1000 (4448)
100 (445)
1/4" (6.3mm)
2400 (10675)
1850 (8229)
250 (1112)
---
Series
Head Style
Material
Finish
Body
Stem
Body
Stem
CCPV
Protruding
Stainless Steel
Stainless Steel
Bright
Bright
SSPV
Protruding
Steel
Steel
Zinc Plate
Zinc Plate
BAPV
Protruding
Aluminum
Aluminum
Natural
Natural
SSLVA
Large Flanged
Steel
Steel
Zinc Plate
Zinc Plate
SSCV
Countersunk
Steel
Steel
Zinc Plate
Zinc Plate