KLAMP-TITE® Fastening System
External locking feature for Structural Klamptite® fastening system requires special nosetip. Provides good vibration resistance. Exceptional clamp-up strength. Wide grip range. Three-leg formation compensates for oversized or irregular holes.
Benefits:
Visible Lock
When using the prescribed nosetip, the rivet stem and body are physically and visibly locked. This provides good vibration resistance and allows inspection of the lock, ensuring a quality fastened joint.
Grip Tolerant
Will fasten materials over a wide range of sheet thicknesses.
Sealing Capability
With the use of an optional rubber washer, this fastener can be made to effect a weather-resistant seal.
Hole Preparation
The three legs of the Klamp-tite rivet provide a large blindside bearing surface over which to distribute loads.
| | | |
| --- | --- | --- |
| | | |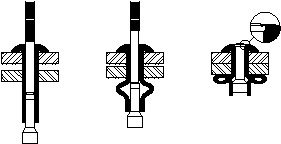 ---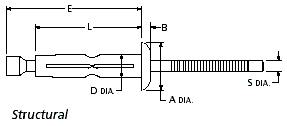 | | | | | | | |
| --- | --- | --- | --- | --- | --- | --- |
| Diameter | | | Aluminum | Grip Range | L (max) | E (max) |
| 3/16" | 4.8mm | | BAPKTR-64 | .050-.250 | 0.890 | 1.210 |
| Hole Size= | .204-.209 (5.18-5.31) | | | 1.27-6.35 | 22.610 | 30.740 |
| A ref= | .445 (11.30) | | BAPKTR-66 | .187-.375 | 0.985 | 1.300 |
| B ref= | .088 (2.24) | | | 4.75-9.53 | 25.020 | 33.020 |
| D ref= | .197 (5.00) | | BAPKTR-69 | .375-.562 | 1.120 | 1.430 |
| S ref= | .103 (2.62) | | | 9.53-14.27 | 28.450 | 36.320 |
| | | | BAPKTR-612 | .562-.750 | 1.300 | 1.620 |
| | | | | 14.27-19.05 | 33.020 | 41.150 |
| 1/4" | 6.4mm | | BAPKTR-84 | .060-.250 | 0.925 | 1.300 |
| Hole Size= | .252-.262 (6.40-6.65) | | | 1.52-6.35 | 23.500 | 33.020 |
| A ref= | .560 (14.22) | | BAPKTR-86 | .187-.375 | 1.050 | 1.420 |
| B ref= | .113 (2.87) | | | 4.75-9.53 | 26.670 | 36.070 |
| D ref= | .242 (6.15) | | | | | |
| S ref= | .136 (3.45) | | | | | |
| | | | | | | |
---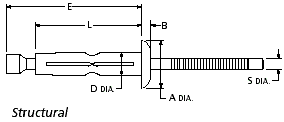 | | | | | | | |
| --- | --- | --- | --- | --- | --- | --- |
| Diameter | | | Aluminum | Grip Range | L (max) | E (max) |
| 3/16" | 4.8mm | | BACKTR-66 | .187-.375 | 0.985 | 1.300 |
| Hole Size= | .204-.209 (5.18-5.31) | | | 4.75-9.53 | 25.020 | 33.020 |
| A ref= | .335 (8.57) | | BACKTR-612 | .562-.750 | 1.300 | 1.620 |
| B ref= | .070 (1.79) | | | 14.27-19.05 | 33.020 | 41.150 |
| D ref= | .197 (5.00) | | | | | |
| S ref= | .103 (2.62) | | | | | |
| | | | | | | |
---
Typical Shear and Tensile Data Klamptite in lbs. (Newtons)
Rivet Diameter
BAPKTR / BACKTR
Shear
Tensile
Stem Retention
3/16" (4.8mm)
700 (3113)
450 (2001)
50 (222)
1/4" (6.4mm)
1250 (6004)
700 (3113)
100 (445)
---
Series
Head Style
Material
Finish
Body
Mandrel
Body
Mandrel
BAPKTR
Protruding
Aluminum
Aluminum
Plain
Plain
BACKTR
Countersunk
Aluminum
Aluminum
Plain
Plain