INTERLOCK® Fastening System
This fastening system has a positive internal mechanical locking feature with superior vibration and water resistance. Available in a variety of materials and headstyles.
Benefits of the Interlock Fastening System:
Internal Lock
Positive stem retention with an internal, mechanical-locking feature.
Complete Hole Fill
Provides greater joint integrity and added water resistance.
High Shear and Tensile
Requires fewer rivets per assembly.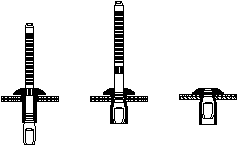 ---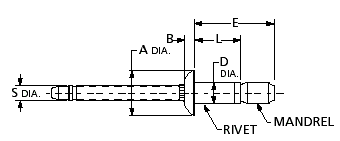 | | | | | | | | |
| --- | --- | --- | --- | --- | --- | --- | --- |
| Diameter | | | Steel | Aluminum | Grip Range | E (max) | L (max) |
| 3/16 (6) | 4.8mm | | SSPI-64 | BAPI-64 | .062-.250 | 0.842 | 0.416 |
| Hole Size= | .194-.204 (4.93-5.18) | | | | 1.57-6.35 | 21.390 | 10.57 |
| A= | .355-.400 (9.02-10.16) | | SSPI-67 | BAPI-67 | .214-.437 | 1.003 | 0.577 |
| B max= | .090 (2.29) | | | | 1.63-11.10 | 25.480 | 14.66 |
| D= | .184-.193 (4.67-4.90) | | SSPI-610 | BAPI-610 | .375-.625 | 1.090 | 0.731 |
| S= | .114-.120 (2.90-3.05) | | | | 9.53-15.88 | 27.690 | 18.57 |
| | | | SSPI-E67 | BAPI-E67 | .062-.437 | 0.967 | 0.541 |
| | | | | | 1.63-11.10 | 24.560 | 13.74 |
| 1/4 (8) | 6.3mm | | SSPI-86 | BAPI-86 | .080-.375 | 1.181 | 0.556 |
| Hole Size= | .261-.276 (6.63-7.01) | | | | .080-.375 | 30.000 | 14.12 |
| A= | .480-.530 (12.19-13.46) | | SSPI-810 | BAPI-810 | .350-.625 | 1.431 | 0.806 |
| B max= | .117 (2.97) | | | | 8.89-15.88 | 36.350 | 20.47 |
| D= | .254-.260 (6.45-6.60) | | SSPV-E810 | BAPV-E810 | .080-.625 | 1.431 | 0.806 |
| S= | .153-.162 (3.89-4.11) | | | | 2.03-15.87 | 36.850 | 20.47 |
| | | | | | | | |
---

| | | | | | | |
| --- | --- | --- | --- | --- | --- | --- |
| Diameter | | | Steel | Grip Range | E (max) | L (max) |
| 3/16 (6) | 4.8mm | | SSCI-66 | .125-.331 | 0.793 | 0.496 |
| Hole Size= | .194-.204 (4.93-5.18) | | | 3.18-8.41 | 20.14 | 12.6 |
| A= | .325-.360 (8.26-9.14) | | | | | |
| B ref= | .070 (1.78) | | | | | |
| D= | .184-.193 (4.67-4.90) | | | | | |
| S= | .114-.120 (2.90-3.05) | | | | | |
| 1/4 (8) | 6.3mm | | SSCI-88 | .170-.475 | 1.028 | 0.66 |
| Hole Size= | .261-.276 (6.63-7.01) | | | 4.32-12.07 | 26.11 | 16.76 |
| A= | .395-.448 (10.03-11.38) | | | | | |
| B max= | .079 (2.01) | | | | | |
| D= | .254-.260 (6.45-6.60) | | | | | |
| S= | .153-.162 (3.89-4.11) | | | | | |
| | | | | | | |
---

| | | | | | | |
| --- | --- | --- | --- | --- | --- | --- |
| Diameter | | | Steel | Grip Range | E (max) | L (max) |
| 3/16 (6) | 4.8mm | | BALI-64 | .062-.250 | 0.842 | 0.416 |
| Hole Size= | .194-.204 (4.93-5.18) | | | 1.57-6.35 | 21.390 | 10.57 |
| A= | .500-.530 (12.70-13.46) | | | | | |
| B max= | .105 (2.67) | | | | | |
| D= | .184-.193 (4.67-4.90) | | | | | |
| S= | .114-.120 (2.90-3.05) | | | | | |
| 1/4 (8) | 6.3mm | | BALI-86 | .080-.375 | 1.181 | 0.556 |
| Hole Size= | .261-.276 (6.63-7.01) | | | 2.03-9.53 | 30.000 | 14.12 |
| A= | .480-.530 (12.19-13.46) | | | | | |
| B max= | .117 (2.97) | | | | | |
| D= | .254-.260 (6.45-6.60) | | | | | |
| S= | .153-.162 (3.89-4.11) | | | | | |
| | | | | | | |
---
Minimum Shear and Tensile Data for Interlocks in lbs. (Newtons)
Rivet Diameter
BA Series Alum / Alum
SS Series Steel / Steel
Shear
Tensile
Shear
Tensile
3/16" (4.8mm)
550 (2246)
450 (2002)
1300 (5782)
1000 (4448)
1/4" (6.3mm)
1270 (5649)
830 (3692)
2400 (10675)
1850 (8229)
---
Series
Head Style
Material
Finish
Body
Mandrel
Body
Mandrel
SSPI
Protruding
Steel
Steel
Zinc Clear & Lube
Zinc & Gold Chromate
BAPI
Protruding
Aluminum
Aluminum
Plain
Plain
BALI
Large Flanged
Aluminum
Aluminum
Plain
Plain
SSCI
Countersunk
Steel
Steel
Zinc Clear & Lube
Zinc & Gold Chromate