HEMLOK® Fastening System
High shear strength, large blind-side footprint for use in thin sheet or brittle material applications. Available in steel and aluminum.
Benefits:
Internal Locking Feature
Mechanical lock gives positive mandrel position.
Superior Shear and Tensile
Solid mandrel retained in shear plane.
Large Blind-Side Footprint
For thin sheet or brittle materials.

---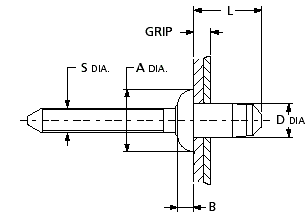 | | | | |
| --- | --- | --- | --- |
| Aluminum | Steel | Grip Range | L Length |
| 2241-0812 | 2221-0812 | .068-.138 | .488-.539 |
| | | 1.5-3.5 | 12.39-13.70 |
| 2241-0813 | 2221-0813 | .110-.189 | .539-.590 |
| | | 2.8-4.8 | 13.68-14.99 |
| 2241-0814 | 2221-0814 | .132-.211 | .561-.612 |
| | | 3.35-5.35 | 14.24-15.55 |
| 2241-0815 | 2221-0815 | .189-.268 | .618-.669 |
| | | 4.8-6.8 | 15.69-17.00 |
| 2241-0817 | 2221-0817 | .268-.346 | .696-.747 |
| | | 6.8-8.8 | 17.67-19.69 |
| 2241-0818 | 2221-0818 | .295-.374 | .724-.775 |
| | | 7.6-9.5 | 18.38-19.69 |
| 2241-0819 | 2221-0819 | .346-.425 | .775-.826 |
| | | 8.8-10.0 | 19.68-20.99 |
| 2241-0821 | 2221-0821 | .425-.504 | .854-.905 |
| | | 10.8-12.8 | 21.69-22.99 |
Typical Shear and Tensile Data for Hemlok in lbs. (Newtons)
---
Rivet Diameter
2221 Series
2241 Series
Shear
Tensile
Shear
Tensile
1/4" (6.36mm)
3820 (17000)
2090 (9300)
1500 (6670)
700 (3110)
---
Series
Head Style
Material
Finish
Body
Mandrel
Body
Mandrel
2221
Protruding
Medium Carbon Steel
Medium Carbon Steel
Zinc & Yellow Chromate
Zinc & Yellow Chromate
2241
Protruding
Aluminum
Aluminum
Plain
Plain