The original speed fastening system used in a wide variety of materials.
Benefits:
Controlled Radial Expansion
A wide range of mandrel sizes enables Chobert® to assemble the most brittle materials without cracking.


Tapered Bore
Internal taper creates greater expansion at the tail of the fastener, allowing joint tightness to be regulated.


Multiple Head Styles and Materials
Chobert® fasteners are available in dome, low-profile and truss head styles, as well as aluminum, steel and brass materials.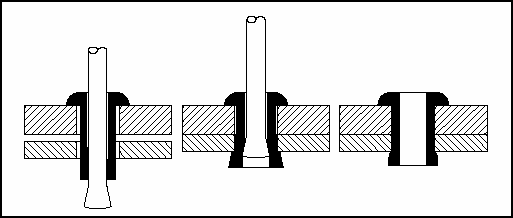 ---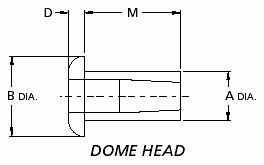 Series
Material
Finish
1121
Steel
Zinc
1125
Aluminum
Plain
1131
Aluminum
Plain
1141
Brass
Bright
1143
Brass
Hot Tin
1162
Aluminum
Plain
1164
Aluminum
Plain
1192
Aluminum


Multiple Mandrels are available
See Chobert Mandrel Section

Diameter
Series
Grip Range
M (max)
3/32"
1121, 1125, 1131, 1141
Hole Size=.098-.100
A dia.=.0935 - .0975
B nom=.149 - .163
D max=.025 - .037

**** - 0304
000. - .062
0.125
Nominal
Mandrel
0.072
**** - 0306
.062 - .125
0.187
**** - 0308
.125 - .187
0.250
**** - 0310
.187 - .250
0.312
**** - 0312
.250 - .312
0.375
1/8"
Hole Size= .129 - .132
A dia.= .1245 - .1280
B nom= .193 - .217
D max= .033 - .045
**** - 0404
000. - .062
0.125
Nominal
Mandrel
0.088
**** - 0406
.062 - .125
0.187
**** - 0408
.125 - .187
0.250
**** - 0410
.187 - .250
0.312
**** - 0412
.250 - .312
0.375
**** - 0414
.312 - .375
0.437
**** - 0416
.375 - .437
0.503
5/32"
Hole Size= .161 - .164
A dia.= .1560 - .1590
B nom= .235 - .257
D max= .047 - .057
**** - 0506
.062 - .125
0.187
Nominal
Mandrel
0.107
**** - 0508
.125 - .187
0.250
**** - 0510
.187 - .250
0.312
**** - 0512
.250 - .312
0.375
**** - 0514
.312 - .375
0.437
**** - 0516
.375 - .437
0.503
3/16"
Hole Size= .191 - .194
A dia.= .1850 - .1910
B nom= .329 - .349
D max= .060 - .070
**** - 0606
.062 - .125
0.187
Nominal
Mandrel
0.132
**** - 0608
.125 - .187
0.250
**** - 0610
.187 - .250
0.312
**** - 0612
.250 - .312
0.375
**** - 0614
.312 - .375
0.437
**** - 0616
.375 - .437
0.503
1/4"
Hole Size= .191 - .194
A dia.= .1850 - .1910
B nom= .329 - .349
D max= .060 - .070
**** - 0809
.125 - .187
0.281
Nominal
Mandrel
0.184
**** - 0811
.187 - .250
0.344
**** - 0813
.250 .312
0.406
---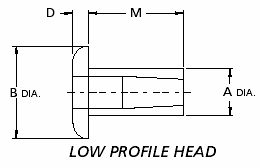 Series
Material
Finish
1121
Steel
Zinc
1125
Aluminum
Plain
1131
Aluminum
Plain
1141
Brass
Bright
1143
Brass
Hot Tin
1162
Aluminum
Plain
1164
Aluminum
Plain
1192
Aluminum


Multiple Mandrels are available
See Chobert Mandrel Section

Diameter
Series
Grip Range
M (max)
1/8"
1162
Hole Size= .129 - .132
A dia.= .1245 - .1280
B nom= .243 - .262
D max= .034 - .041

Nominal Mandrel is .088
**** - 0404
000. - .062
0.125
**** - 0406
.062 - .125
0.187
**** - 0408
.125 - .187
0.250
**** - 0410
.187 - .250
0.312
**** - 0412
.250 - .312
0.375
**** - 0414
.312 - .375
0.437
**** - 0416
.375 - .437
0.503
---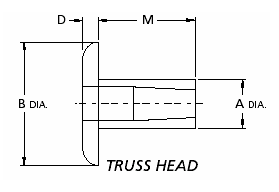 Series
Material
Finish
1192
Aluminum
Plain
Multiple Mandrels are available
See Chobert Mandrel Section

Diameter
Series
Grip Range
M (max)
1/8"
1192
Hole Size= .129 - .132
A dia.= .1245 - .1280
B nom= .193 - .217
D max= .033 - .045

**** - 0406
.062 - .125
0.187
Nominal
Mandrel
0.088
**** - 0408
.125 - .187
0.250
**** - 0410
.187 - .250
0.312
**** - 0412
.250 - .312
0.375
**** - 0414
.3112-.375
0.437
5/32"
Hole Size= .161 - .164
A dia.= .1560 - .1590
B nom= .235 - .257
D max= .047 - .057
**** - 0508
.125 - .187
0.250
Nominal
Mandrel
0.107
**** - 0514
.312 - .375
0.437
---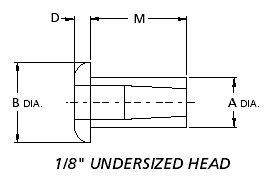 Series
Material
Finish
1164
Aluminum
Plain
Multiple Mandrels are available
See Chobert Mandrel Section

Diameter
Series
Grip Range
M (max)
1/8" Undersized
1164
Hole Size= .120 -.123
A dia.= .1145 - .1185
B nom= .243 - .262
D max= .034 - .041

Nominal Mandrel is .088

**** - 0406
.062 - .125
0.187
**** - 0408
.125 - .187
0.250
**** - 0410
.187 - .250
0.312
**** - 0412
.250 - .312
0.375
**** - 0414
.312 - .375
0.437
SHEAR AND TENSILE STRENGTH DATA
---
Typical Shear and Tensile Strength (lbs.)
| | | | | | | | | |
| --- | --- | --- | --- | --- | --- | --- | --- | --- |
| | Rivet Diam. | Series 1121 | Series 1125 | Series 1131 | Series 1141 & 1143 | Series 1162 | Series 1164 | Series 1192 |
| Shear | 3/32" | | | 97 | 170 | | | |
| Tensile | | | | 97 | | | | |
| Shear | 1/8" | 258 | 140 | | 290 | 140 | 129 | 140 |
| Tensile | | 373 | 225 | | | 225 | 207 | 225 |
| Shear | 5/32" | 433 | 220 | | | | | 220 |
| Tensile | | 650 | 365 | | | | | 365 |
| Shear | 3/16" | 588 | 320 | | | | | |
| Tensile | | 852 | 515 | | | | | |
| Shear | 1/4" | 1140 | | 170 | | | | |
| Tensile | | 1198 | | 268.000 | | | | |
---
Rivet Diam.
Hole Size
Mandrel Head
Desc.
Spring P/N
Long or Curved Spring P/N
Regular Mandrel P/N
Short Reach Mandrels P/N
Long or Curved Mandrel P/N
Regular Length
Long or Curved
3/32"
0.098
0.072
Standard
7150-6803
7150-7803
7150-6003
7150-7003
7150-8003
7150-9003
0.100
0.074
#1 O.S.
7150-6803
7150-7803
7150-6103






0.102
0.076
#2 O.S.
7150-6803
7150-7803
7150-6203
7150-7103
7150-8103
7150-9103
1/8"
0.128
0.088
Standard
7150-6804
7150-7804
7150-6004
7150-7004
7150-8004
7150-9004
0.133
0.092
#1 O.S.
7150-6804
7150-7804
7150-6104
7150-7104
7150-8104
7150-9104
0.140
0.098
#2 O.S.
7150-6804
7150-7804
7150-6204
7150-7204
7150-8204
7150-9204
0.144
0.102
#3 O.S.
7150-6804
7150-7804
7150-6304
7150-7304
7150-8304
7150-9304
5/32"
0.161
0.107
Standard
7150-6805
7150-7805
7150-6005
7150-7005
7150-8005
7150-9005
0.169
0.115
#1 O.S.
7150-6805
7150-7805
7150-6105
7150-7105
7150-8105
7150-9105
0.176
0.122
#2 O.S.
7150-6805
7150-7805
7150-6205
7150-7205
7150-8205
7150-9205
0.186
0.132
#3 O.S.
7150-6805
7150-7805
7150-6305
7150-7305
7150-8305
7150-9305
3/16"
0.193
0.132
Standard
7150-6806
7150-7806
7150-6006
7150-7006
7150-8006
7150-9006
0.208
0.146
#1 O.S.
7150-6806
7150-7806
7150-6106
7150-7106
7150-8106
7150-9106
0.218
0.156
#2 O.S.
7150-6806
7150-7806
7150-6206
7150-7206
7150-8206
7150-9206
1/4"
0.257
0.184
Standard
7150-6808
7150-7808
7150-6008
7150-7008
7150-8008
7150-9008
0.269
0.196
#1 O.S.
7150-6808
7150-7808
7150-6108
7150-7108
7150-8108
7150-9108
---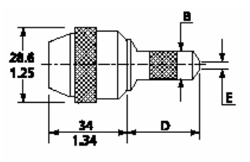 Chobert Nose Equipment:
Diam.
Jaw Type
Part Number
B dim.
D dim.
E dim.
3/32"
Std. Flat
7150-3003
0.36
1.30
0.16
Std. Tapered
7170-3103
0.36
1.30
0.16
Std. Flat Cam Operated
7170-4500
0.36
1.30
0.16
Long Flat
7150-4003
0.41
2.3
0.16
Long Curved Flat
7150-5003
0.41
2.28
0.16
Std. Ltd. Access Cam Op.
7177-3003
0.2
1.18
0.18
Std. Ltd. Acc. Redcd. Dia.
7274-1000
0.22
1.07
0.18
1/8"
Std. Flat
7150-3004
0.41
1.18
0.20
Std. Tapered
7170-3104
0.41
1.18
0.20
Std. Flat Cam Operated
7170-4600
0.41
1.18
0.20
Long Flat
7150-4004
0.41
1.18
0.20
Long Curved Flat
7150-5004
0.41
2.12
0.20
Std. Ltd. Access Cam Op.
7170-5000
0.41
2.18
0.20
5/32"
Std. Flat
7150-3005
0.48
1.30
0.24
Std. Tapered
7170-3105
0.44
1.30
0.24
Std. Flat Cam Operated
7170-4700
0.48
1.30
0.24
Long Flat
7150-4005
0.48
2.30
0.24
Long Curved Flat
7150-5005
0.48
2.23
0.24
Std. Ltd. Access Cam Op.
7170-5100
0.48
2.30
0.24
3/16"
Std. Flat
7150-3006
0.56
1.18
0.33
Std. Tapered
7150-3106
0.56
1.18
0.33
Std. Flat Cam Operated
7170-4800
0.56
1.18
0.33
Long Flat
7150-4006
0.56
2.30
0.33
Long Curved Flat
7150-5006
0.56
2.22
0.33
Std. Ltd. Access Cam Op.
7170-5200
0.56
2.30
0.33
1/4"
Std. Flat
7150-3008
0.64
1.18
0.39
Long Flat
7150-4008
0.64
2.18
0.39