BULBEX® Fastening System
The Bulbex fastening system is a multiple grip all-steel breakstem rivet. Unique crimp design provides wide grip range and smooth bubble formation on tailside. Available in low profile, large flange, and countersunk head styles.
Benefits:
Wide Grip Range
One rivet can be used in multiple material thicknesses, a very unique feature for an all-steel breakstem rivet.
Mechanically Locked Stem
Stem is locked in shell, eliminating the risk of mandrel head vibrating loose while providing a weather resistant joint.
Complete Hole Fill
The bulbing formation of the Stavex® will fill slightly oversized or irregular holes, providing increased strength and vibration resistance.
| | | |
| --- | --- | --- |
| | | |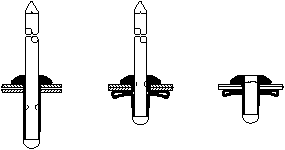 ---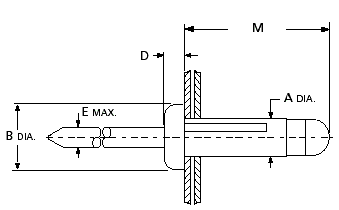 | | | | | | | |
| --- | --- | --- | --- | --- | --- | --- |
| Diameter | | | Aluminum | Black Anodized | Grip Range | M (max) |
| 5/32" | 4.0mm | | BF01-0516 | BF11-0516 | .040-.118 | 0.630 |
| Hole Size= | .165-.177 (4.20-4.50) | | | | 1.00-3.00 | 16.000 |
| A max= | .165 (4.19) | | BF01-0523 | BF11-0523 | .040-.275 | 0.840 |
| B nom= | .312 (7.90) | | | | 1.00-7.50 | 21.200 |
| D max= | .060 (1.53) | | | | | |
| E max= | .090 (2.27) | | | | | |
| 3/16" | 4.8mm | | BF01-0619 | BF11-0619 | .040-.157 | 0.720 |
| Hole Size= | .161-.166 (4.09-4.22) | | | | 1.00-4.00 | 18.300 |
| A max= | .155-.160 (3.95-4.06) | | BF01-0625 | BF11-0625 | .040-.354 | 0.920 |
| B nom= | .311 (7.90) | | | | 1.00-9.00 | 23.300 |
| D max= | .061 (1.55) | | BF01-0630 | BF11-0630 | .157-.472 | 1.070 |
| E max= | .090 (2.27) | | | | 4.00-12.00 | 27.100 |
| | | | | | | |
---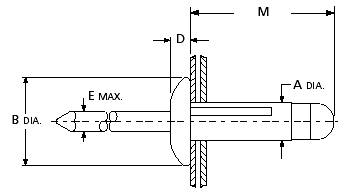 | | | | | | | |
| --- | --- | --- | --- | --- | --- | --- |
| Diameter | | | Aluminum | Black Anodized | Grip Range | M (max) |
| 3/16" | 4.8mm | | BF41-0619 | BF41-0619-05 | .040-.157 | 0.720 |
| Hole Size= | .197-.207 (5.00-5.25) | | | | 1.00-4.00 | 18.300 |
| A max= | .197 (5.00) | | BF41-0625 | BF41-0625-05 | .040-.354 | 0.920 |
| B nom= | .610 (15.50) | | | | 1.00-9.00 | 23.300 |
| D max= | .080 (2.04) | | | | | |
| E max= | .112 (2.83) | | | | | |
| | | | | | | |
---
Typical Shear and Tensile Data Bulbex Fasteners in lbs. (Newtons)
Rivet Diameter
BF01/BF11/BF41
Shear
Tensile
5/32" (4.0mm)
135 (600)
225 (1000)
3/16" (4.8mm)
175 (780)
240 (1070)
---
Series
Head Style
Material
Finish
Body
Mandrel
Body
Mandrel
BF01
Low Profile
Aluminum
Aluminum
Plain
Plain
BF11
Low Profile
Aluminum
Aluminum
Black Anodized
Plain
BF41
Large Flange
Aluminum
Aluminum
Plain
Plain