A shouldered end gives Briv speed fastening systems extremely high clench capability and provides joint strength. Used extensively in sheet metal fabrication.
Benefits:
Low Cost
Substantial savings in installed costs can be realized when Briv fasteners are substituted for spot welds, loose hardware, or traditional nail rivets.


Fast Installation
Magazine-fed fasteners can be placed as fast as an operator can move from hole to hole, and can be installed by semiautomatic or fully automated systems.


Versatile
A wide range of mandrel sizes enables Briv expansion to accommodate hole size variations.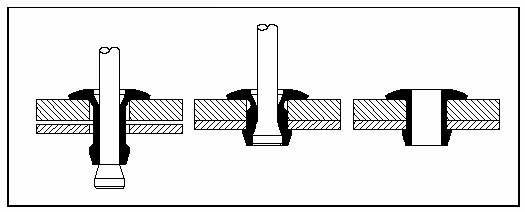 ---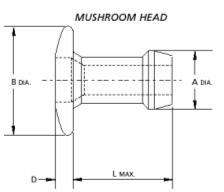 Series
Material
Finish
1801
Aluminum
Plain
1821
Steel
Zinc Plate
1831
Brass
Bright
1841
Stainless
Plain
1822
Steel
Zinc Plate
Multiple Mandrels are available
See Briv Mandrel Section

Diameter
Series
Grip Range
L (max)
3/32"
1831
Hole Size=.0930 - .0960
A dia.=.0875 - .0930
B nom=.148 - .162
D max=.030 - .035
**** - 0304
.045 - .095
0.157
Nominal
Mandrel
0.073
**** - 0306
.085 - .135
0.197
**** - 0308
.125 - .175
0.237
**** - 0310
.165 - .215
0.277
**** - 0312
.205 - .255
0.317
**** - 0314
.245 - .295
0.357
1/8"
1801, 1821, 1831
Hole Size= .1285 - .1315
A dia.= .1199 - .1245
B nom= .233 - .257
D max= .032 - .039

**** - 0404
.045 - .095
0.172
Nominal
Mandrel
0.092
**** - 0406
.085 - .135
0.212
**** - 0408
.125 - .175
0.252
**** - 0410
.165 - .215
0.292
**** - 0412
.205 - .255
0.332
5/32"
1801, 1821, 1831, 1841
Hole Size= .1562 - .1592
A dia.= .1495 - .1535
B nom= .298 - .322
D max= .032 - .039
**** - 0505
.062 - .115
0.193
Nominal
Mandrel
0.110
**** - 0507
.105 - .155
0.233
**** - 0509
.145 - .195
0.273
**** - 0511
.185 - .235
0.313
**** - 0513
.225 - .275
0.353
3/16"
1801, 1821, 1831, 1841
Hole Size= .191 - .194
A dia.= .1839 - .1885
B nom= .358 - .382
D max= .039 - .046
**** - 0607
.080 - .155
0.187
Nominal
Mandrel
0.140
**** - 0609
.145 - .205
0.250
**** - 0611
.195 - .255
0.312
**** - 0613
.245 - .305
0.375
**** - 0615
.295 - .355
0.437
6mm
1801
Hole Size=
A dia.=
B nom=
D max=
**** - 6007
.105 - .155




**** -6009
.145 - .195


**** - 6011
.185 - .235


**** - 6013
.225 - .275


**** - 6015
.265 - .315


**** - 6017
.305 - .355


---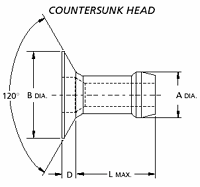 Multiple Mandrels are available
See Chobert Mandrel Section

Diameter
Series
Grip Range
M (max)
1/8"
1822
Hole Size= .1285 - .1315
A dia.= .1199 - .1245
B nom= .233 - .257
D max= .032 - .039

Nominal Mandrel is .092
**** - 0406
.060 - .110
0.188
**** - 0407
.100 - .150
0.228
**** - 0408
.140 - .190
0.268
**** - 0410
.180 - .230
0.308
**** - 0411
.220 - .270
0.348
---
Typical Shear and Tensile Strength (lbs.)


Rivet Diam.
Series 1801 Aluminum
1821 Steel
1831 Brass
1841**
Stainless Steel
1822 Steel
Shear
Tensile
3/32"




140
200




Shear
Tensile
1/8"
170
295
255
410
250
430


213
370
Shear
Tensile
5/32"
255
390
370
630
420
620
550
800


Shear
Tensile
3/16"
340
615
505
835
520
810
800
1150


** 1841 requires Special Mandrel - See Mandrel Selection
---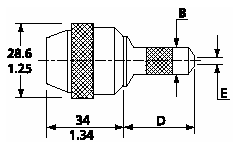 Diam.
Jaw Type
Part Number
B dim.
D dim.
E dim.
3/32"
Std. Flat Tapered
7170-3103
0.41
1.11
0.200
Std. Ltd. Access Cam Op.
7177-3003
0.20
1.18
0.180
Std. Ltd. Acc. Redcd. Dia.
7274-1000
0.22
1.07
0.156
1/8"
Std. Flat
7150-3004
0.41
1.18
0.200
Std. Flat Cam Operated
7170-4600
0.41
1.18
0.200
Std. Tapered
7170-3104
0.41
1.11
0.20
Recessed High Clamp
7170-3004
0.41
1.20
0.30
Extra Recessed High Clamp
7150-3204
0.41
1.22
0.32
Long Flat
7150-4004
0.41
2.18
0.20
Recessed Long High Clamp
7170-3204
0.41
2.18
0.30
Long Flat Cam Operated
7170-5000
0.41
2.22
0.20
Extra Long Recessed Long High Clamp
7150-4204
0.41
2.22
0.30
Recessed High Clamp Long Curved
7170-3304
0.41
2.12
0.30
5/32"
Std. Flat
7150-3005
0.48
1.30
0.24
Std. Flat Cam Operated
7170-4700
0.44
1.30
0.24
Recessed High Clamp
7170-3005
0.48
1.32
0.41
Long Flat
7150-4005
0.48
2.30
0.24
Recessed Long High Clamp
7170-3205
0.48
2.30
0.41
Long Flat Cam Operated
7170-5100
0.48
2.30
0.24
Extra Long Recessed Long High Clamp
7150-4205
0.48
2.35
0.42
Long Curved Flat
7150-5005
0.48
2.23
0.24
Recessed Long Curved High Clamp
7170-3305
0.48
2.23
0.41
Std. Flat
7150-3006
0.56
1.18
0.33
3/16"
Std. Flat Cam Operated
7170-4800
0.56
1.18
0.33
Recessed High Clamp
7170-3006
0.56
1.18
0.47
Extra Recessed High Clamp
7150-3206
0.56
2.30
0.47
Long Flat
7150-4006
0.56
2.22
0.33
Recessed Long High Clamp
7170-3206
0.56
2.30
0.47
Long Flat Cam Operated
7170-5200
0.56
1.18
0.33
Long Universal
7150-4206
0.56
2.39
0.48
Long Curved Flat
7150-5006
0.56
2.21
0.33
Recessed Long Curved High Clamp
7150-4008
0.56
2.21
0.47
Preferred Nose Equipment for Cts'k 1/8" dia. Holes - 7170-4600
---
Rivet Diam.
Hole Size
Mandrel Head
Desc.
Spring P/N
Long or Curved Spring P/N
Regular Mandrel P/N
Long or Curved Mandrel P/N
3/32"
0.093
0.073
Standard
7170-6873
7170-7873
7150-6013
7150-7013
0.096
0.076
#1 O.S.
7170-6873
7170-7873
7150-6113
7150-7113
0.099
0.079
#2 O.S.
7170-6873
7170-7873
7150-6213
7150-7213
1/8"
0.128
0.092
Standard
7150-6814
7150-7814
7150-6014
7150-7014
0.133
0.097
#1 O.S.
7150-6814
7150-7814
7150-6114
7150-7114
0.138
0.102
#2 O.S.
7150-6814
7150-7814
7150-6214
7150-7214
5/32"
0.156
0.110
Standard
7170-6875
7170-7875
7150-6015
7150-7015
0.161
0.115
#1 O.S.
7170-6875
7170-7875
7150-6115
7150-7115
0.166
0.120
#2 O.S.
7170-6875
7170-7875
7150-6215
7150-7215
3/16"
0.191
0.140
Standard
7170-6876
7170-7876
7150-6016
7150-7016
0.196
0.145
#1 O.S.
7170-6876
7170-7876
7150-6116
7150-7116
0.201
0.150
#2 O.S.
7170-6876
7170-7876
7150-6216
7150-7216
0.204
0.153
#3 O.S.
7170-6876
7170-7876
7150-6316
7150-7316
*5/32"
.156/.159
0.120
Standard
7170-6875
7170-7875
7170-6805
7170-7805
.161/.164
0.125
#1 O.S.
7170-6875
7170-7875
7170-6825
7170-7825
*3/16"
.191/.194
0.153
Standard
7170-6876
7170-7876
7170-6806
7170-7806
.196/.199
0.158
#1 O.S.
7170-6876
7170-7876
7170-6826
7170-7826
---
Std. Flat Cam Operated
Extra Recessed High Clamp
Rivet Dia.
Part Number
Nose Piece
Moderate Clamp
Maximum Clamp
Nose Piece
Moderate Clamp
Maximum Clamp
1/8"
**** - 0404
7170-4600
.045/.075
1.14/1.91mm
.075/.095
1.91/2.41mm
7150-3204
.035/.050
.89/1.27mm
.050/.085
1.27/2.16mm
**** - 0406
.085/.115
2.16/2.92mm
.115/.135
2.92/3.43mm
.075/.090
1.91/2.29mm
.090/.125
2.29/3.18mm
**** - 0408
.125/0.155
3.18/3.94mm
.155/.175
3.94/4.45mm
.115/.130
2.92/3.30mm
.130/.165
3.30/4.19mm
**** - 0410
.165/.195
4.19/4.95mm
.195/.215
4.95/5.46mm
.155/.170
3.34/4.32mm
.170/.205
4.32/5.21mm
**** - 0412
.205/.235
5.21/5.97mm
.235/.255
5.97/6.48mm
.195/.210
4.95/5.33mm
.210/.245
5.33/6.22mm
5/32"
**** - 0505
7170-4700
.065/.095
1.65/2.41mm
.095/.115
2.41/2.92mm
7150-3205
.035/.050
.89/1.27mm
.050/.085
1.27/2.16mm
**** - 0507
.105/.135
2.67/3.43mm
.135/.155
3.43/3.94mm
.075/.090
1.91/2.29mm
.090/.125
2.29/3.18mm
**** - 0509
.145/.175
3.68/4.45mm
.175/.195
4.45/4.95mm
.115/.130
2.93/3.30mm
.130/.165
3.30/4.19mm
**** - 0511
.185/.215
4.70/5.46mm
.215/.235
5.46/5.97mm
.155/.170
3.34/4.32mm
.170/.205
4.32/5.21mm
**** - 0513
.225/.255
5.72/6.48mm
.255/.275
6.48/6.99mm
.195/.210
4.95/5.33mm
.210/.245
5.33/6.22mm
3/16"
**** - 0607
7170-4800
.095/.125
2.41/3.18mm
.125/.155
3.18/3.94mm
7150-3206
.060/.085
1.14/2.16mm
.085/.120
2.16/3.05mm
**** - 0609
.145/.175
3.68/4.45mm
.175/.205
4.45/5.21mm
.110/.125
2.79/3.18mm
.125/.170
3.18/4.32mm
**** - 0611
.195/.225
4.95/5.72mm
.225/.255
5.72/6.48mm
.160/.175
4.06/4.45mm
.175/.220
4.45/5.59mm
**** - 0613
.245/.275
6.22/6.99mm
.275/.305
6.99/7.75mm
.210/.225
5.33/5.72mm
.225/.270
5.72/6.86mm
**** - 0615
.295/.325
7.50/8.26mm
.325/.355
8.26/9.02mm
.260/.275
6.60/6.99mm
.275/.320
6.99/8.13mm