AVIBULB® Fastening System
All-steel bulbing breakstem rivet. Excellent clamp-up and superior shear and tensile strength result in a vibration resistant joint. Smooth bulb formation is ideal for thin backside material.
Benefits:
All-Steel Construction
Provides extremely high shear and tensile strengths.
Bulbing Tail Formation
Large bearing surface is ideal when thin backside material is part of the assembly. Pull-out is increased and thin material is not deformed.
Positively Locked Stem
High clamp-up and positive stem retention ensures a vibration resistant joint.
| | | |
| --- | --- | --- |
| | | |
---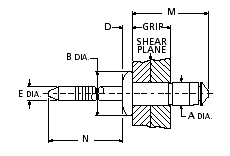 | | | | | | |
| --- | --- | --- | --- | --- | --- |
| Diameter | | | Steel | Grip Range | M (max) |
| 1/8" | 3.2mm | | BN01-0408 | .039-.118 | 0.343 |
| Hole Size= | .130-.134 (3.10-3.30) | | | 1.0-3.0 | 8.700 |
| A dia.= | .122-130 (3.10-3.30) | | BN01-0411 | .118-.197 | 0.445 |
| B nom= | .248 (6.30) | | | 3.0-5.0 | 11.300 |
| D max= | .055 (1.40) | | BN01-0414 | .197-.276 | 0.535 |
| E max= | .083 (2.10) | | | 5.0-7.0 | 13.600 |
| 5/32" | 4.0mm | | BN01-0509 | .039-.118 | 0.400 |
| Hole Size= | .161-.169 (4.10-4.30) | | | 1.0-3.0 | 10.160 |
| A dia.= | .153-.160 (3.90-4.06) | | BN01-0512 | .118-.197 | 0.480 |
| B nom= | .303 (7.70) | | | 3.0-5.0 | 12.100 |
| D max= | .059 (1.50) | | BN01-0516 | .197-.276 | 0.600 |
| E max= | .102 (2.60) | | | 5.0-7.0 | 15.100 |
| 3/16" | 4.8mm | | BN01-0611 | .059-.138 | 0.480 |
| Hole Size= | .193-.201 (4.90-5.10) | | | 1.5-3.5 | 12.100 |
| A dia.= | .185-.192 (4.70-4.87) | | BN01-0614 | .138-.236 | 0.580 |
| B nom= | .336 (9.30) | | | 3.5-6.0 | 14.600 |
| D max= | .059 (1.50) | | BN01-0618 | .236-.335 | 0.700 |
| E max= | .126 (3.20) | | | 6.0-8.5 | 17.600 |
---
Rivet Diameter
Part No.
Shear
Tensile
Stem in Shear Plane
Stem not in Shear Plane
1/8" 3.2mm
BN01-0408
270 (1200)
N/A
310 (1380)
BN01-0411
393 (1750)
BN01-0414
562 (2500)
5/32" 4.0mm
BN01-0509
539 (2400)
416 (1850)
629 (2800)
BN01-0512
787 (3500)
BN01-0516
921 (4100)
3/16" 4.8mm
BN01-0611
809 (3600)
742 (3300)
854 (3800)
BN01-0614
944 (4200)
BN01-0618
1258 (5600)
---
Series
Head Style
Material
Finish
Body
Mandrel
Body
Mandrel
BN01
Low Profile
Steel
Steel
Zinc Yellow Dichromate
Zinc Yellow Dichromate